My family booked tickets to Phu Quoc immediately after the second wave of Corona virus hit because staying at home for such a long period of time drained me, and I wanted to change the atmosphere a little. I decided that the focus of our trip would be on recreational activities and hospitality, and therefore did not choose to visit many sightseeing attractions (this is partly due to the fact that I wanted to avoid crowded places after the virus outbreak). We altogether chose to reside at one of Vinpearl's resorts - Vinpearl Resort & Spa Phu Quoc.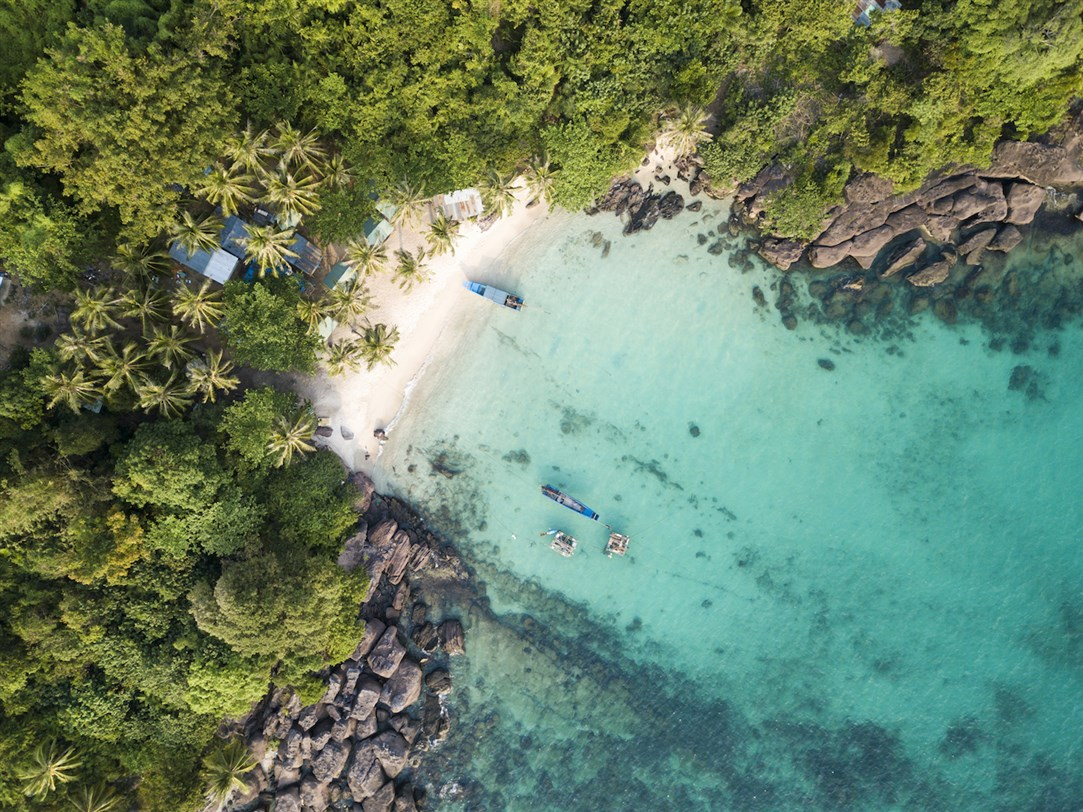 Below is the schedule and itinerary of my trip, which everyone can refer to.
1. Transportation:
There are many ways to come to Phu Quoc, but for speed and convenience, we chose to go by plane. After the outbreak, the majority of airlines launched cheap promotion programs, and the whole travelling fare for my family of 6 adults was only 1,000,000 VND/round trip, including 23 kg/each person's checked baggage.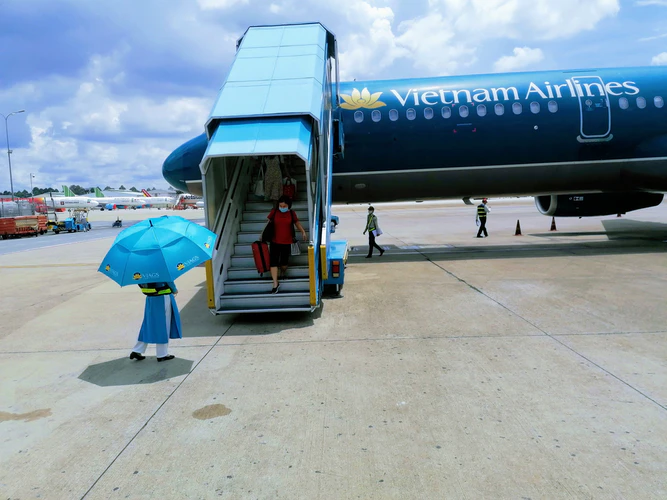 My family stayed at Vinpearl Resort Phu Quoc, which is 30 km from the airport. However, because they have a separate line of airport shuttle services for guests who book at Vinpearl, the transportation from the airport to the hotel was free. When you get off the airplane, a representative of Vinpearl would soon pick you up to the hotel and help you with check-in procedures, which was both fast and very efficient.
2. The best time to visit Phu Quoc
The ideal time to go to Phu Quoc is in the summer from April to August when the sun shines, the sky is beautiful and the weather is suitable for travel. But due to cases of the virus, we could not go anywhere. It was not until September that our family left for the trip. Fortunately, it was cool in Phu Quoc and not too hot, so the trip was still a pleasant one.
3. Where to stay:
In Phu Quoc, there are many accommodation options from hotels and homestays to hostels, all of which are suitable for different customers with different needs. As my family has decided from the beginning, our trip's goal was for relaxation, and thus we chose Vinpearl Resort & Spa Phu Quoc.

My family of 6 adults booked a 3-bedroom villa with sea views, which boasts a private swimming pool for a comfortable, private space for 4 days. Our first impression when coming here is a majestic villa. We then opened the doors to admire the sea from the villa's large windows, which are used for sightseeing.
The furniture in the room is the same as other places, but because it is a villa, it is fully equipped with a living room, kitchen, toiletries. Probably my most favorite activity is to dive into the swimming pool right in front of the house, where I can jump in and just swim.
4. Phu Quoc 4D3N tourism specific schedule
Here is the specific 4N3N Phu Quoc travel schedule of my family, you can refer to:
Day 1: Hanoi - Phu Quoc
I flew at 3:40 pm, so at 6:00 pm I arrived at Vinpearl Phu Quoc. After returning to the hotel, we checked-in and rest a little, then went to the restaurant in Vinpearl to eat. There is an Almaz food court with 6 restaurants in 6 different rooms, serving everything from Asia to European delicacies. After eating, my parents went back to their room to rest, but my husband and I and my younger brother wanted to explore the Phu Quoc night market, so we went out to hang out again.
On the island, there are a variety of foods, especially snails and seafood. Because we just arrived, we did not knew the place very well, so we stopped temporarily in a restaurant, went for a walk and then came back to the hotel to re-energize for the next day.
Day 2: Safari - VinWonders Phu Quoc
After finishing the buffet breakfast, I started to go to the Safari area to play. Before going, I read a lot of reviews and everyone told me this is a must-visit, so the whole family decided to go there from day 2. You can always purchase the combo for 2 zones with the price of 900,000 VND/adult ticket and 680,000 VND/children or senior ticket - which is more cost-effective than purchasing tickets individually.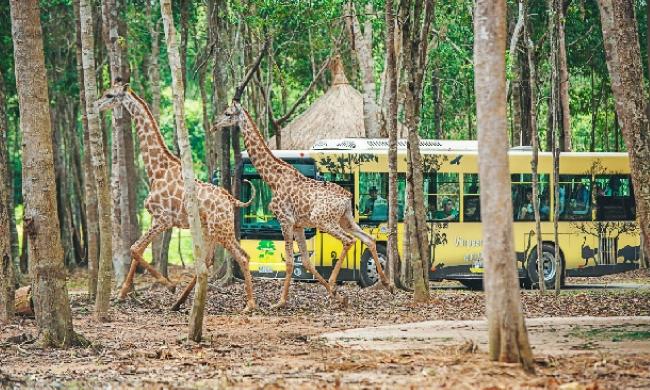 This destination has 2 main zones: the Open Zoo and the Safari. At the Zoo, only a few particularly dangerous animals will be inside cages, while the rest can be seen at a close distance through a safety fence. Here, I enjoy playing with sheeps and goats. These animals are very friendly and do not run upon seeing humans.
Afterwards, we went to visit the Safari. We went around in a free shuttle to watch the animals that roam freely outside. We and the animals are extremely close and are only separated by a layer of glass. This is the first Safari model in Vietnam, so it's a must-try on our bucket list.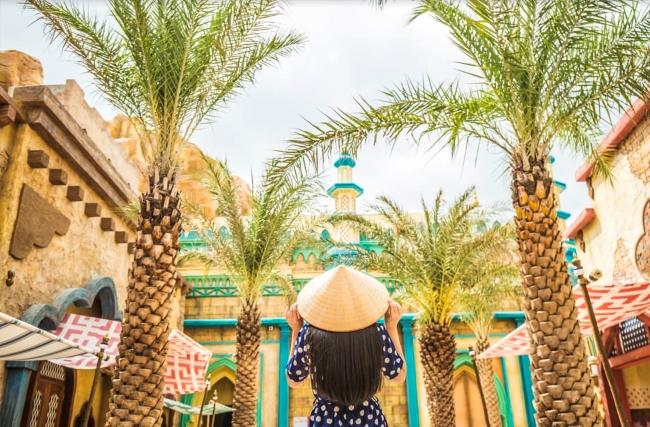 The newly constructed VinWonders also features many beautiful spots for us to have fun and take impressive pictures. After visiting Safari, our family rested, had lunch, and then went to VinWonders after the weather became a little less hot. There are 2 zones here: the amusement park and the water park, which are full of thrilling games and are suitable for those who love adventures. Those who don't want to play games can walk around to admire the complex's amazing architecture.
After playing, we returned to our room to unwind, swim a little, and then went out to eat seafood at night.
Days 3 and 4: Relax at the resort
On the 3rd and 4th day, my family decided to rest at the resort. We went to swim, get a massage at the spa, and visit the beach. The resort has a wide range of services from dining and entertainment to beauty services at the spa, so you don't need to travel too far for a memorable holiday. We had a blast and took pictures for the whole day.
5. What to eat?
You can enjoy the specialties of Phu Quoc, such as:
- Phu Quoc seafopod: Coming to the sea, you definitely should try out seafood, but in Phu Quoc there will be seafood dishes that cannot be missed. Local staples include the Ham Ninh crab, barracuda, herring, and many more.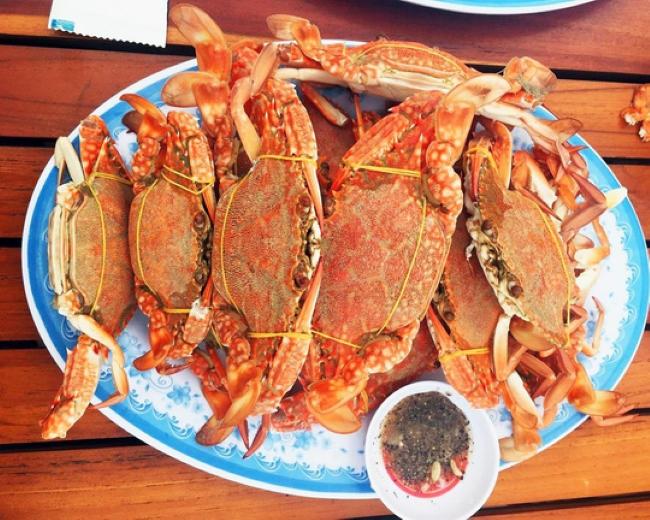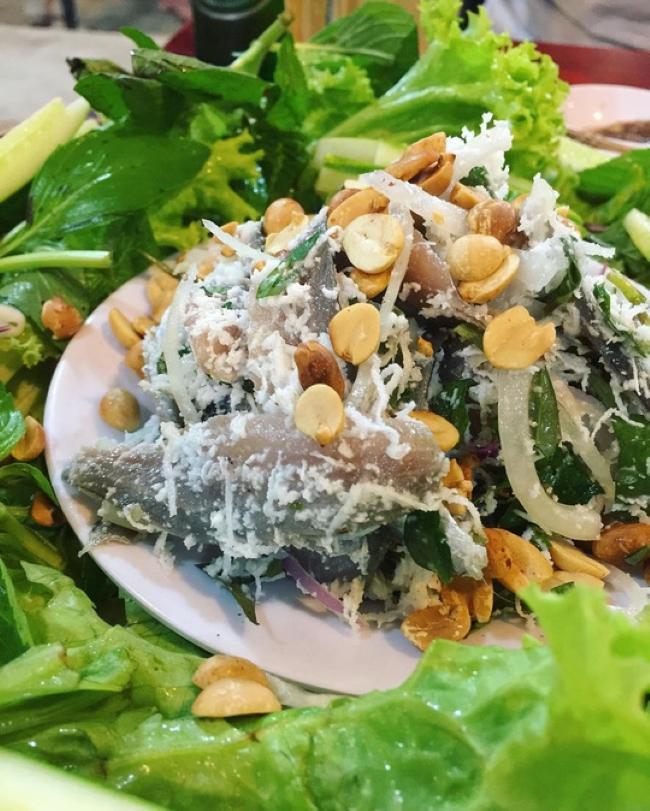 - Honey cake: It is called so because here people will use honey leaf to wrap the cake. Each place will have a different filling and wrapping method. This is also an ideal gift for the family.
- Fish cake soup: A super famous dish on Phu Quoc Island, fish cake soup could be eaten either during the day or at night. This dish includes fish balls made from fresh mackerel, and is served with rice cake soup combined with hot soup
- Stirred noodles: This dish is quite strange to many people, but it is a popular dish of the people of Phu Quoc with a special broth of pureed fish and viscous coconut milk that is extremely tasty.
6. Buy sourvenirs from Phu Quoc
You can buy dried foods like Phu Quoc pepper, dried fish, dried shrimp, and dried squid,.. as gifts, or buy some decorative items. Phu Quoc fish sauce is also a potential candidate for sourvenirs, but you cannot bring these onto a plane. If you do buy the fish source, ask the seller to pack it and send it to you.
My family doesn't like eating food, so they just buy a pound of dried shrimp and sometimes cook soup to sweeten it. You can buy these items at any market.
Above is our family's experience for the Phu Quoc trip. Everyone can consult this review and schedule accordingly. I booked directly here on Vinpearl's website, which is trustworthy and features many promotions, so I can hunt for combos with good prices.
Have a nice trip everyone!
(Posts from H.N.Bao Anh)
;;;