At any age, tourism is always a valuable spiritual gift. For the elderly, vacation with children and friends become even more meaningful. However, long journey or regular exercise can make them feel tired. So these travel tips below will play an important role in creating a great holiday for our grandparents and parents!
Have a pre-travel check-up
Health examination ensures that your loved one is healthy enough to enjoy the journey. In particular, the older are your grandparents and parents, the more health problems they get. Their bones and joints also become weaker, sometimes there's need for exercise regime and periodic examinations.
In the case of traveling abroad with grandparents and parents, this is even more important. For people 75 years of age and older, it is best to have a doctor's confirmation.
Choose the right time for the elderly to travel
Choosing the right time is also an important note when the elderly travel because it greatly affects the experience of the whole trip.

Whether traveling domestic or abroad, each region has different weather characteristics. So carefully research the weather of the destination, along with the health of your grandparents, parents to decide the most appropriate option.

For the elderly, travel during too cold or too hot period should be restricted. Sudden changes in weather can cause many health problems, especially for those with blood pressure, heart disease or bone and joint problems.
Choose travel itineraries for the elderly carefully
Unlike young people, older people will not be able to take part in vigorous journeys or tight schedules. You can refer to the family vacation with integrated service facilities to provide suitable activities for the whole family.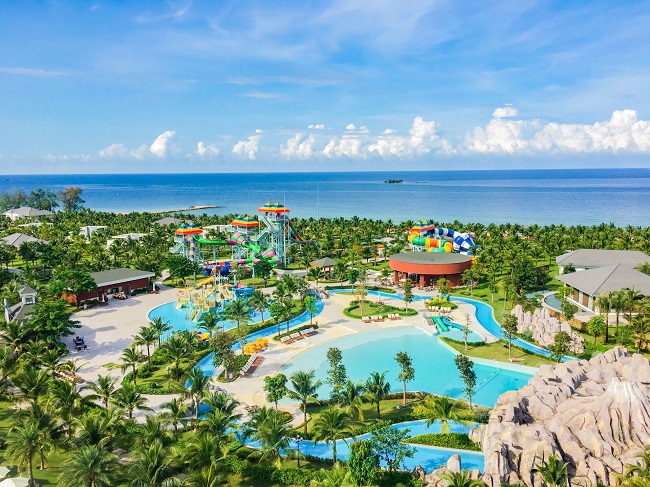 In addition, tours for the elderly are also quite popular for teams or groups. The tour operators will design tours with a more relax schedule, travel leisurely, and also take the weather into consideration.
A company is necessary
For the elderly, it is essential to have companions when traveling. Certainly traveling with children or close friends is the wish of grandparents. In case family members are unable to join the trip, you can give your phone number to the tour guide and be in contact regularly to update the situation or if there is an emergency.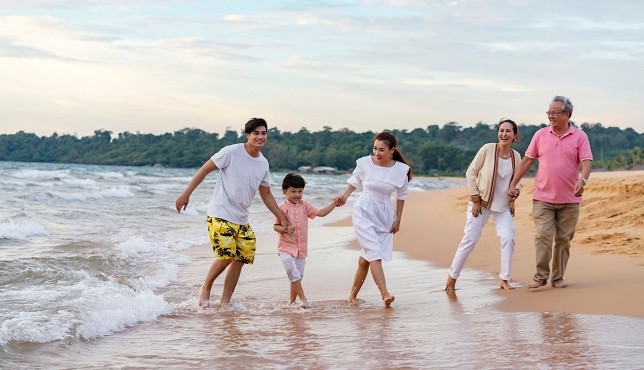 Notice of the menu during the trip
Age always comes with many diseases. If you do not pay attention to their food, existing health problems can worsen, such as allergies or some foods that should be avoided for people with diabetes, heart disease ...

For the elderly, the dishes that are oily, fatty or with too much seasoning should be limited, and replaced with healthy dishes or supplemented with vegetables.
Be careful when traveling by plane or train
If you have to sit on a train or plane for a long time, the elderly's body will easily ache and tired. Before departure, you can remind your grandparents or parents to eat some snacks and limit alcohol. While moving, you can stand up and walk when allowed, stretch or move your limbs, rotate your joints to relax tendons.
Notice when booking a hotel
For commuting convenience, try to find rooms on the lower floor. Even if the hotel may have an elevator, limiting the travel time is also worth considering. Especially when getting old, your grandparents might want to walk 1 or 2 floors upstairs to take advantage of exercise instead of taking the elevator.
Minimal luggage packing
Don't use the "more is better" mindset in this case. Carrying much luggage will lead to problems while travelling and can even cause injuries to the muscles and joints. Just bring essential items like clothes, medicine and some basic personal belongings.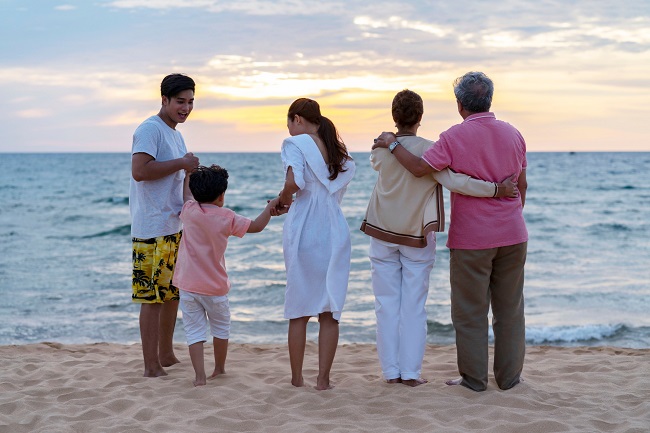 Buy travel insurance
Although not expected, older people's chances of facing unintended risks while traveling are much higher than young people. Therefore, buying insurance is an essential thing that you should consider. Depending on your family's financial ability and needs, you can choose the right package. If you buy a tour from a travel agency, please clarify if the insurance is included.
We hope these travel notes will help your family trip be safe, happy and have the most memorable moments.
;;;